On the 8th of November our friend, Mr. Pol Vogelaere, arrived in Kishor Nagar. As usual Uncle Pol, as the boys call him, is again at work.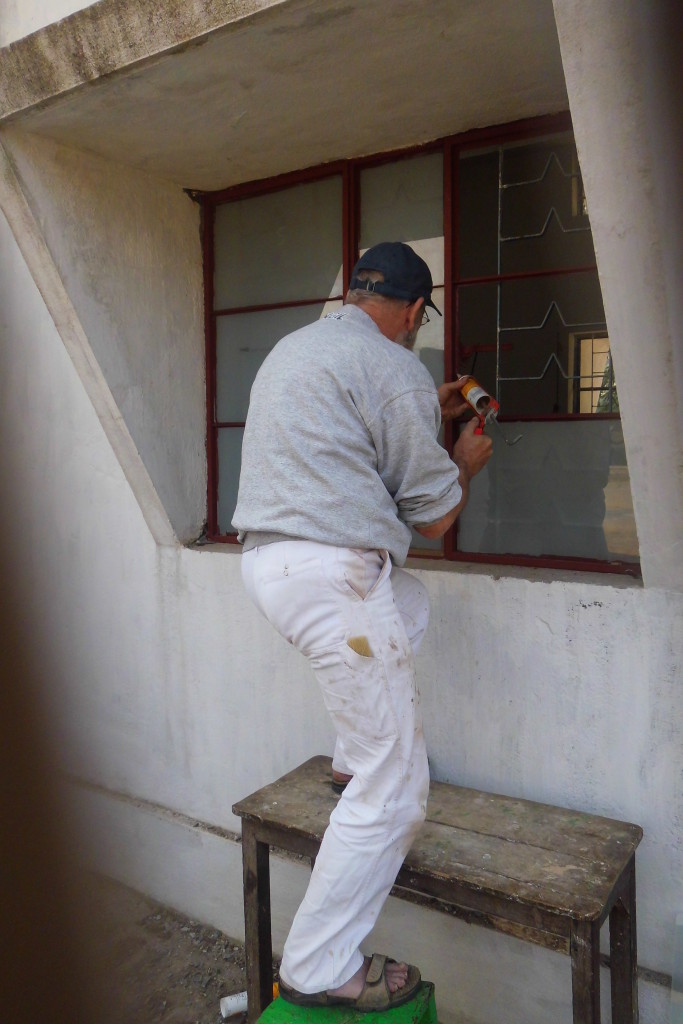 Pol at work
With help of a few boys is doing the needed repairs in the Dispensary building (Hospital) such as fixing windows and replacing broken window panes. Next week the final painting will start.
In the beginning of the month two NCC officers visited Kishor Nagar and held consultations with the Director and the Headmaster on enrolling students into the National Cadet Core. This will be very helpful for the boys who want to join the armed forces after completing their studies.
On the occasion of Children's Day, 14th of November, we had the inauguration of the Library. The Ranchi Samaritans, a unit of Round Table India, donated more than 10,000 books to the school.
The New Library is at present located in the new Hall. The Samaritans also provided all the furniture, shelves, tables, chairs and fans. Mrs. Aaradhna Patnaik, Secretary HRD, Govt of Jharkhand, was the Chief Guest on the occasion. It was a memorable day as the Ranchi Samaritans also organised a drawing competition for the lower classes and indoor games for the higher classes.
On November 18th and 19th, two teams of KN took part the open Football Tournament, organised by the Nehru Yuwa Kendra.
The tournament took place in the premises of the XIPT and the KN B team came 3rd in the competition. They have qualified for participation in the District Level tournament to be held in December. The Devki Nandan Foundation was the main sponsor of the competition. This foundation is also assisting KN in its Sport Development activities.